ICC Launches a Book on Two Decades of Business Competition Enforcement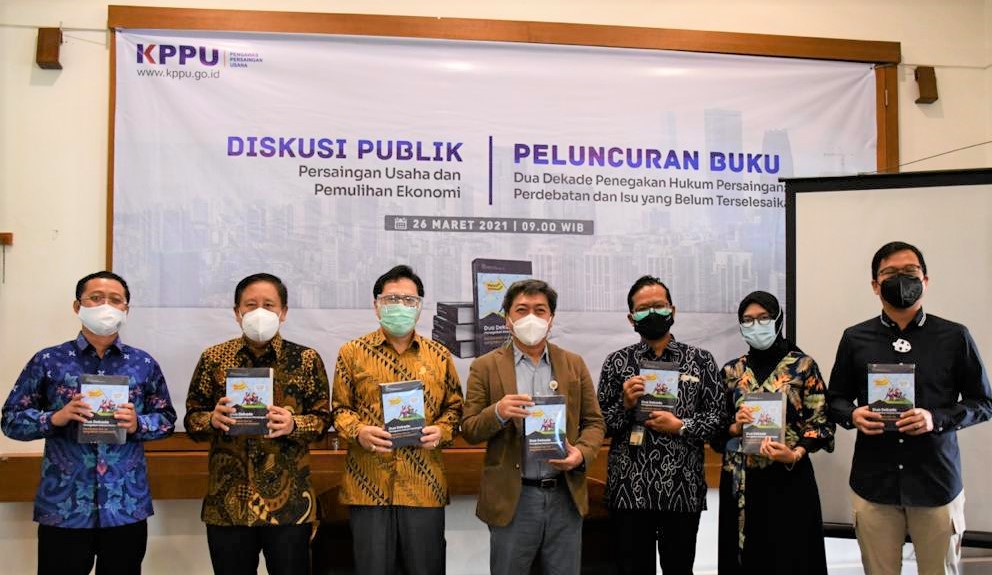 Jakarta, 3 May 2021 - Indonesia Competition Commission (ICC) launched a Book on Two Decades of Competition Law Enforcement: Debates and Issues Not Yet Resolved today at a cafe in Central Jakarta. The book compiled by 33 (thirty three) authors contains various issues faced in the implementation of Law No. 5 Year 1999 and the challenges that have not been resolved for two decades. At the launching event, the Chairman of ICC emphasized the importance of the spirit and paradigm of fair business competition to become a culture in the communities. Besides being attended by the Chairman, the launch event was attended by the Vice Chairperson of ICC, Mr. Guntur S. Saragih, and several ICC members, namely Mr. Kurnia Toha, Mr. Chandra Setiawan, and Mr. M. Afif Hasbullah as well as several writers contributing to the compiling of the book. .
The Minister of Finance of the Republic of Indonesia was represented by her Expert Staff for Law and Institutional Relations, Ms. Rina Widiyani Wahyuningdyah. In her remarks, she underscores the importance of synergy between the Ministry of Finance of the Republic of Indonesia and ICC in handling the COVID-19 pandemic through national recovery programs both for medium- and long-term programs to materialize the aspirations of Indonesia to get out of the middle-income trap.
ICC complemented the book launching activity with a public discussion on business competition and economic recovery. This is in line with the theme of the ICC's Chairmanship in the ASEAN Experts Group on Competition (AEGC) in 2021, namely the Safeguarding Competition Policy for Economic Recovery in order to urge competition authorities in ASEAN to take a big role in the economic recovery through a more active advocacy initiatives on competition policies. The said discussion caused Prof. Jimly Asshiddiqie to attend, who shared his thoughts on the reform and challenges of competition law. Furthermore, Mr. Suroto, the Head of the Association of Strategic Socio-Economic Cadres (AKSES) and Director of Center of People's Business Cooperative (INKUR) shared his views on the supervision of MSME partnerships and the acceleration of the national economic recovery.