CCS shares views on ASEAN at GCR Live 6th Annual Asia-Pacific Law Leaders Forum 2017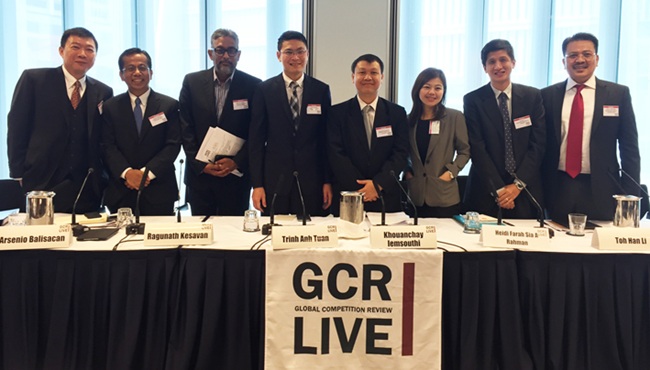 Mr Toh Han Li, Chief Executive of CCS, participated as a panellist in the ASEAN Regulators' Roundtable on 2 March at the Global Competition Review (GCR) Live Singapore: 6th Annual Asia-Pacific Law Leaders Forum.
Moderated by Mr Lim Chong Kin from Drew & Napier Singapore, the panel discussed capacity building, the development of competition laws in the ASEAN region, the differing treatment of key commercial conduct, and key policy drivers in each jurisdiction, enforcement of competition laws, focus markets as well as recent cases. The panel consisted of 5 other ASEAN regulators, namely Mr Arsenio Balisacan, Chairman of the Philippine Competition Commission, Mr Ragunath Kesavan, Member of the Commission of the Malaysia Competition Commission, Ms Trinh Anh Tuan, Deputy Director-General in the Domestic Trade Department of the Ministry of Industry and Commerce, Laos, Mr Kamser Lumbanradja, Commissioner of Indonesia's Commission for the Supervision of Business Competition and Ms Heidi Farah Sia Binti Abd Rahman, Acting Assistant Director of the Department of Economic Planning and Development, Prime Minister's Office of Brunei.
More information on the panel discussion can be found here.